Composite materials are materials made from two or more constituent materials with significantly different physical or chemical properties, that when combined, produce a material with characteristics different from the individual components.
FIELDS OF APPLICATION:
CONSTRUCTION SECTOR:Facade protection, storages, construction formworks, stations etc.
URBAN DEVELOPMENT: Sculptures, benches, utility poles etc.
HOUSEHOLD FURNITURE: Desks, chairs, decorative furniture etc.
ELECTRICAL AND ELECTRONIC INDUSTRY: Electrical insulation, electronic devices etc.
AVIATION INDUSTRY: Glider bodies, plane models, spacecrafts etc.
AUTOMOTIVE INDUSTRY: Vehicle body parts, interior fittings, bumpers etc.
WORK MACHINES: Cabins, covers etc.
GENERAL PROPERTIES OF COMPOSITES
The Advantages of Composite Materials:
High strength: Composites are among the most effective materials that provide high strength values.
Lightweight: Composites have higher resistance values in weight per unit area compared to both non-reinforced plastics and metals.
Flexible design: Composites can be designed for any kind of complex, simple, large, small, structural, aesthetical, decorative or functional purposes.
Dimensional stability: Thermosetting composite materials maintain their shapes and functionalities under different mechanical and environmental stresses.
High dielectric strength: The outstanding electrical insulation properties of composites are the reason why a large number of components are preferably produced with these materials.
High corrosion resistance: The anti-corrosion property of composites is superior compared to other production materials.
Ease of molding: By providing the opportunity of molding in one piece the composite products eliminate the procedure of connecting and subsequently assembling of several parts as it is often the case with traditional steel materials.
Surface applications: The polyester resin used in composite products can be produced in the desired color by means of coloring procedures performed with special pigment additives.
Transparency: Composites can be as light-permeable as glass. As the transparent composites emit light they provide a big advantage in greenhouse and solar collector production where diffused light carries great importance.
Applicability on concrete surfaces: Composites adhere perfectly on concrete surfaces. Especially as the concrete is porous, polyester resin, that is one of the main components of composites, leaks into the pores of the concrete and hardens within the concrete mass, thus an excellent adherence is achieved.
Applicability on wooden surfaces: Composites can adhere to wooden surfaces. For this application the wood has to be dry and it has to be well impregnated with the polyester resin containing styrene.
Applicability on iron surfaces: The iron can be coated with composites after the residual rust and oil on the surface has been cleaned. By this means iron and steel surfaces are coated with composites and protected against corrosion.
Incombustibility: The flame resistance of composites depends on the properties of the used polyester. In case flame resistance is requested "flame resistant" polyester has to be used.
Composites are heat-resistant: As composite products are made of polyester resins that belong to the group of thermosetting plastics, they do not soften or deform. The heat-resistance depends on the type of polyester resin used.
Several materials can be embedded in composites: The mechanical properties of the composites can be changed by embedding materials such as iron, wood, rope, wire, cardboard and rigid polyurethane foam in them.
Reparability: In order to prevent the reparation marks the reparation should be performed on a form of the product should be grinded or polished after the repairs.
Composites can be cut and drilled: Composites can be cut, drilled and grinded as easy as wood. If the devices used for this purpose are made of hard steel or have a diamond bit, better results can be achieved.
Composite Profiles:
Composite profiles are produced by pulling coiled fibers through a resin bath and a heated die along a specific line by means of a puller and then sizing them according to desired lengths. This production method is called Pultrusion.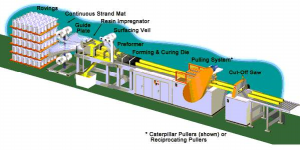 Our Pultrusion Production Line:
Composite Profiles can be produced in desired sizes and dimensions. Our company works with expert staff and has the necessary technical equipment to produce all kinds of profiles.
Farklılığımızı ortaya koyabilmek adına amacımız sadece standart ürünlerle var olmak değildir. Standart ürünlerimizin dışında farklı dizaynlarda ve üretimi zor parçalarıda yapabilmektir. Aşağıda fotoğraflarını gördüğünüz ürünler farklı sektörlere hitap eden ürünlerdir. Bunlar gibi Pultruzyonda deneyim gerektiren ürünleri tecrübeli kadromuz sayesinde üretebilmekteyiz.
OUR R&D PROJECT "THE COMPOSITE K-14 BEAM"
Our company has been active in the area of reinforced concrete formwork systems since 1988 and is offering solutions with an innovative approach in this sector. We have combined our experience with this innovative approach and have now completed our studies for a new product. Turkey has become a center in the production of construction materials in its region and the number of producer companies is increasing every day.
IDES Kalıp has modernized its studies in order to make a difference and offer innovative solutions in this sector.
K14 is a project that gained the support of Tübitak (The Scientific and Technological Research Council of Turkey) in the category of "Innovative Products" after two years of research and development.
Composite materials are used in many sectors throughout the world (automotive, aviation, defense etc.) including the construction sector. Composite materials that have been on the global market for about 10 years came into play in Turkey as a result of the search for long lasting, high strength materials. IDES Kalıp's endeavors in this area started when the company took notice of the disadvantages of wooden materials and came to the conclusion that composite materials are the perfect and better alternative. IDES Kalıp combined its engineering experience with good teamwork and produced its own pultrusion machine in order to design and develop an innovative and unique product.
The K14 Composite Supporting Beam made of material containing fiber glass and polyester, provides a many more advantages compared to equivalent products. Today construction sites use wooden materials for floor, wall and column formworks. Until now we imported the H20 wooden materials we used in our projects from abroad, but as of today after having put the K14 project into practice, we can produce the K14 composite materials in any size, color and number at our own production facilities covering an area of 1200 sqm.
In addition to the K14 Composite Beam development works, we manufactured our own test device to perform product tests. The product was approved and registered after studies in cooperation with universities. Our company that has been very thorough and precise during the research and development process before launching this product, has not taken a single step without making certain that the product is completely reliable. The K14 Composite Beam has been tested on wall formworks at our own construction site Reka in Tekirdağ and the first trials were successful.
The K-14 Beam has all the general properties of composites and its strength has been improved with special procedures.
It will provide your construction site significant advantages.
The K14 with its unique properties has been designed for usage in floor, wall and column formworks of construction projects.